Eclectic Jade is a small, locally owned, Franklin, Indiana business.
Our store is an array of ever changing home decor, gifts, clothing, and all the vintage inspired things you love!
We're so glad you're here!
✿
✿

Eclectic Jade is a cute little small town shop that has a special warmth you feel upon entering. They have the perfect pieces to make that homey feeling we all desire. Mixing and matching different textures with throw blankets and pillows along with baskets, signs, and candles will give your home the personal touch it needs. There is trendy clothing, hats and jewelry for everyone.

-Zoi C.

✿

I cannot say enough wonderful things about this adorable shop. It's such a good blend of old and new. I honestly think I could have bought every single thing in the store. Totally reasonable prices. Great service while I was there. If you haven't been, you need to. I will definitely be going back!

-Hillary E.

✿

This shop delivers what it's name promises...an eclectic collection of merchandise ranging from creative signs, unique clothing lines, painted furniture, & anything you may want from vintage to the latest trends!

-Shelly S.

✿

My mood lifts as soon as I walk in the door. There are so many little treasures to find there. I am pretty certain I've never left there without buying something. Christie has an amazing eye for stocking her boutique. I absolutely love this place!!

-Sabrina P.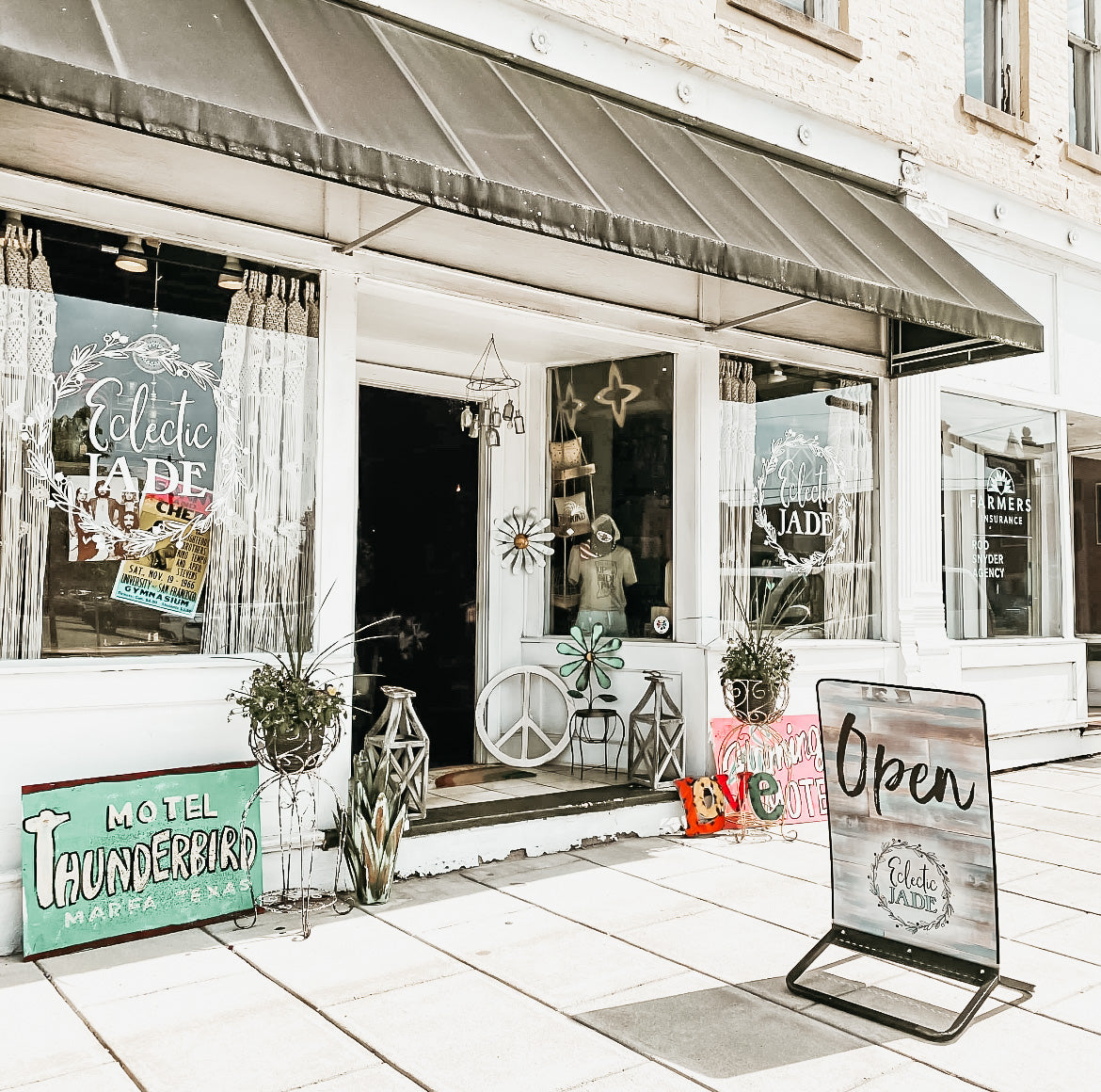 Check out our store!
Location: 108 W Jefferson St, Franklin, IN 46131
Store Hours:
Monday: Closed
Tuesday: 10:30AM–4:30PM
Wednesday: 10:30AM-4:30PM
Thursday: 10:30AM–4:30PM
Friday: 10:30AM-4:30PM
Saturday: 10:30AM–4:30PM
Sunday: 12:00PM–4:00PM
Phone:
317-739-0500
Find your inspiration today! ✿
We take pride in helping customers make their home a beautiful space they want to spend time in.